Babel: A Film by Alejandro Gonzalez Inarritu (Hardcover)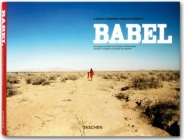 Description
---
From Tijuana to Tokyo: The making of the final film of I rritu's acclaimed trilogy
Mexican film director
Alejandro Gonz lez I rritu
, along with
top photographers Mary Ellen Mark, Patrick Bard, Graciela Iturbide
, and
Miguel Rio Branco
, bring together their highly perceptive visions on cultural diversity in a book that combines seductive images and firsthand remarks on the unique experience of shooting
Babel
.
Winner of the Best Director prize at the 2006 Cannes Film Festival
, the film is the third in the director's trilogy started by
Amores Perros
and
21 Grams
.
Shot in Morocco, Tijuana, and Tokyo
, and involving a multilingual cast lead by
Brad Pitt, Cate Blanchett, Gael Garc a Bernal
, and
Koji Yakusho
, as well non-professional actors from the three countries portrayed,
Babel
continues the director's quest to explore the effects of loss and grief, and seeks to relate the modern implications of ancient myth on the origins of human inability to successfully communicate.
This book is a visual recollection of the parallel stories and real-life characters that revolved around the making of
Babel
, and the unexpected ways in which fiction and reality collide. Photographs both from the set and the surrounding disparate landscapes are paired with the director's personal commentary on the larger-than-life film shoot. Introduced with essays by novelist and poet
Eliseo Alberto
and Gonzalez I rritu, as well as an interview with the director by
Rodrigo Garc a
, the result is an engaging book that both complements
Babel's
powerful statement on the barrier of language, and reveals the fascinating reality of the people and places that inspired the film.
The director: Born in Mexico City in 1963,
Alejandro Gonz lez I rritu
studied filmmaking and theater and composed music for Mexican features before directing and producing his debut feature film,
Amores Perros
(2000), which was nominated for an Academy Award as Best Foreign Language Film and received over 53 awards from all over the world, including BAFTAs, the Golden Globes, Tokyo, Sao Paulo, Edinburgh, San Sebastian, and Toronto. I rritu's follow-up film,
21 Grams
(2003), which he directed, co-wrote, and produced, starred
Sean Penn
,
Benicio del Toro
, and
Naomi Watts
. Both Del Toro and Watts received Oscar nominations for their roles in the film and Penn won the Jury Prize for Best Actor at the Venice Film Festival. Babel, which will be released worldwide in November 2006, garnered the Best Director Prize at the 59th Cannes Film Festival. I rritu lives in Los Angeles with his wife and two children. Text in English, French, German, and Spanish.